FEATURE
I have been painting for years. I tried other activities or subjects, but I naturally came back to painting always. It always seemed inviting. Its one of the few things we can do without having any background knowledge of it. Most of the images will either come to me while I'm doing something else entirely like washing dishes. Or I'll just grab a canvas and paint.
FEATURE
My goals as an artist are simple: to create, and to be seen. The basis of my art rides on two things - my ability to express my emotions through a tangible representation, and the possibility of sparking a visceral reaction in a viewer. At a young age I discovered that art was my method of conveying the unexplainable within myself. I believe all humans have this sense of the 'unexplainable' - what is muddled in communication errors and emotions leaves a mark on the subconscious. I've been incredibly inspired by the modern day sexual revolution, the feminist movement, and the concepts of identity and communication. My work builds upon the type of work that Louise Bourgeois and Tracey Emin create - sexually and emotionally provocative pieces. Their work is the narrative of their lives, and my work mirrors mine. I'm lucky to grow up in an age where social media makes music and fashion so accessible, as they divulge the same truths that I'm working to discover. I'd like my work to be shown around the world alongside emerging music and fashion, as the three are working in a mutually beneficial relationship. With the arts, the conversation never ends. I want to be a part of that conversation, exploring important cultural narratives. I want to be an influencer. As I am learning and growing, my art develops. My art is a way of dissecting myself, thereby dissecting our culture today.
FEATURE
My name is Amanda Lindsay. I'm 17 years old, from Chicago, but I currently attend boarding school in New Jersey. I am a new artist and an aspiring curator. I began art just two years ago when ACL surgery took me out of soccer, my first passion. While injured, I found my love for art and I plan on turning it into my career. Art is essentially the one constant in my life, since I don't really live anywhere (I'm only home in Chicago for a week at a time and I don't really consider boarding school a home). My artwork is a reflection of my journey to find self love as a Black woman, and features whatever is pissing me off in any given moment. My art speaks for me when I can't figure out how to articulate my feelings.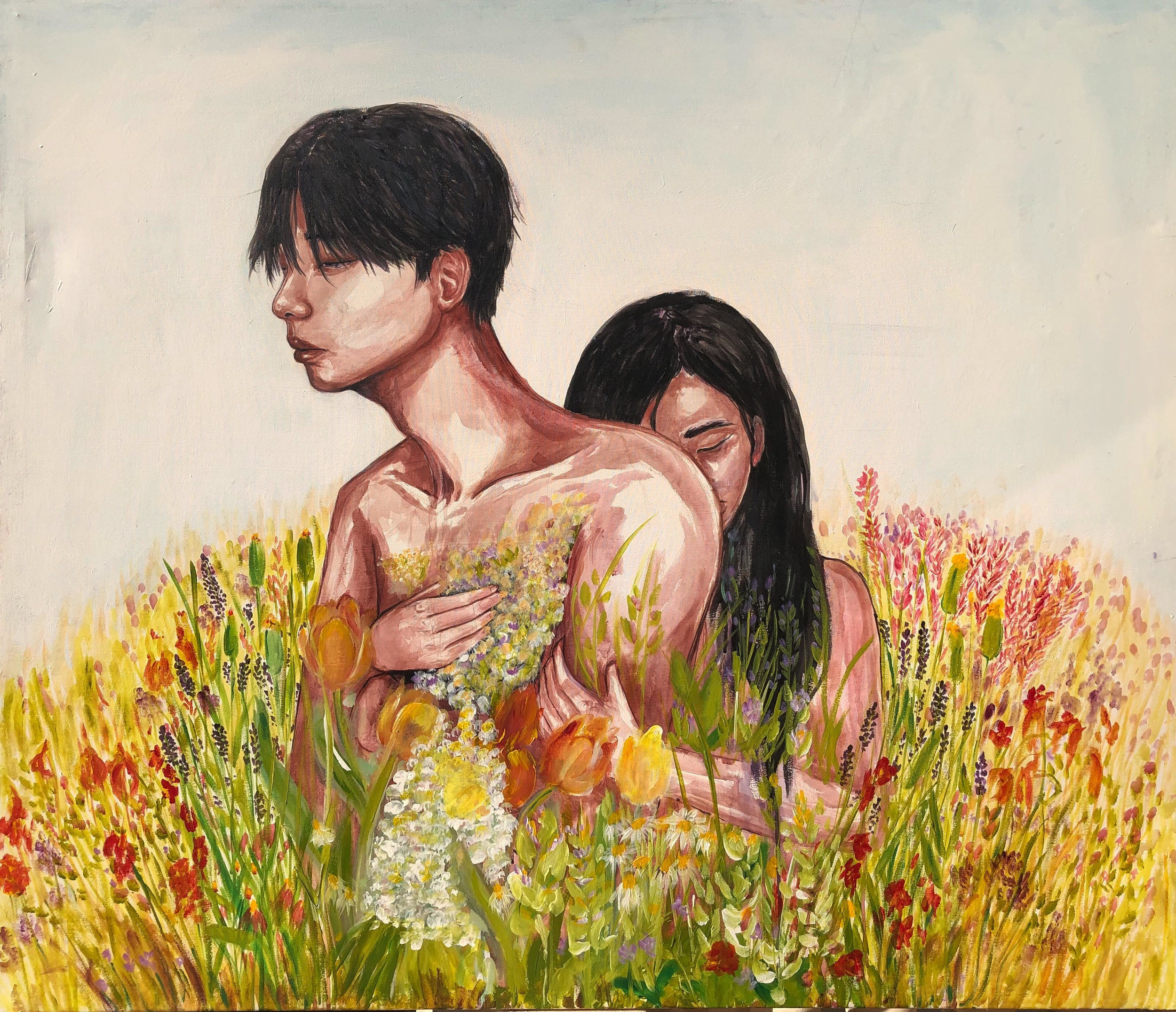 I've been drawing ever since I could hold a pencil. My entire life the margins of my notes and books would be filled with small drawings. As I grew up a bit, I realized that something was wrong with me. Something wrong with my head. It drove me crazy, you know, living in a household influenced by a culture that doesn't believe in mental illness and stigmatizes medicine to help treat it.
In the past, painting and drawing had been an escape for me, to channel my mental energy into making things I imagined constantly. But as I grow older, art has become a different type of escape. This is the only way I have and the only way I know to escape myself. I create because I want to, but also because it is my therapy. I paint and I draw so that I can survive.
Without an outlet like art, I'd truly go insane. Nothing else can keep me as grounded and calm. When I'm working on original pieces, every single one is borne out of raw emotions that are too much for me to keep in my body. I take this pain out and put it on a canvas. And it heals me. To me, art isn't just a hobby or a side job. It's a weapon I use in the fight for my life.On what I create:
Throughout my life, I've noticed a very distinct othering of Asian people within Western media and discourse. Our physical features and cultures are transformed and flattened before final consumption or disposal and it doesn't sit right with me. My main mission through my art is to normalize what has been othered, and hopefully I can bring about a more positive humanized reception to Asian people in the Western eye. I hope I can portray all Asian communities and diaspora as subjects of art for others to look upon and see as images of beauty without preconceived stigma and bias! I want a safe space for people like me and for fellow QPOC.
JACOB NEWMAN
FEATURE
Below are some pieces I've done recently that deal with intimacy. This is a very rare subject in my work because most of what I deal with is the construct of American isolationism and individualism, and so when I do work that relates to intimacy and sexuality it is often a criticism.
First Piece
This piece is a reflection of one of the most intimate conversations that I have had in many years. I was in the car all packed ready to go on a solo road trip but I stopped by a friend's place beforehand and we spoke in the car for over an hour, and I didn't end up leaving until very late at night to get on the road but the conversation was very life changing, it felt like the whole world faded away.
Second Piece
I did this piece after seeing Vertigo, which is perhaps one of the most sexist films of the 20th century. I was really baffled by this, and so I tried to depict very traditional heteronormative intimacy in this piece, but in my normal style, to kind of make fun of how unnatural and antiquated this sort of thing is. You will notice with the faces they have layers, which I do in this series to represent the different things that run through someone's head as they are presented with a situation, though you only really get to see the first layer.
Third Piece
This piece I did very intentionally with extremely androgynous figures. Perhaps this is an intimate conversation between a person and a past self. Maybe it is a person and their lover of the same sex. Perhaps this is a portrait of heterosexual intimacy. With such ambiguity I hope a viewer will project something into it without anything being suggested.